Canadian Building Permits Take a Dive in September
Canadian building permits serve as a crucial economic indicator, offering valuable insights into the country's construction activity. In this blog post, we delve into the latest data on building permits, focusing on the surprising decline of 6.5% in building permits in September and its potential impact on the housing market.
The unexpected decline in building permits for September raises questions about the implications for both the residential and non-residential sectors. Understanding this data is crucial for investors, homeowners, and policymakers.
In September, Canadian building permits experienced an unexpected 6.5% decline compared to August. The total value of these permits reached a seasonally adjusted 11.19 billion Canadian dollars, equivalent to approximately $8.13 billion USD. This decline was surprising, as the consensus forecast had anticipated a 1.1% rise for the month, based on data provided by TD Securities.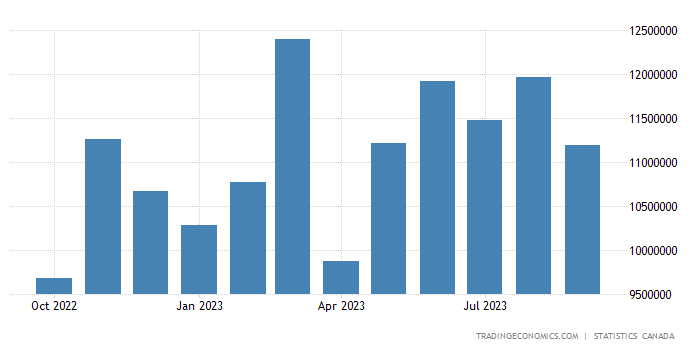 While the overall building permits declined, the residential sector saw growth. Construction intentions in the residential sector increased, with permits rising by 4.3% to C$7.17 billion. Within the residential sector, there was a notable increase in multifamily dwellings, with a rise of 9.9%, although intentions for single-family homes saw a decrease of 3.5%.
Year-over-year, the overall value of permits issued in September showed an 8.0% increase, indicating a positive trend in construction activities.
The unexpected decline in building permits has implications for the long-term housing market in Canada:
The growth in the residential sector, despite the decline in overall building permits, could be seen as a positive sign for the housing market. An increase in construction intentions for multi-family dwellings suggests a demand for such housing units, possibly due to factors like urbanization and changing lifestyle preferences.
On the other hand, the decline in non-residential building permits, primarily due to institutional intentions, may raise concerns. The non-residential sector includes commercial and institutional buildings, and a decrease in construction activities here could indicate a slowdown in related businesses and services. This could impact employment and economic activity in these sectors, which might, in turn, affect the demand for residential properties.
The fluctuations in the construction industry, as evidenced by the variations in building permits, can introduce a level of uncertainty into the housing market. Investors and potential homebuyers may closely monitor these trends to make informed decisions.
Government bodies and policymakers may also take note of these trends in building permits to make informed decisions about regulatory changes or economic incentives to support the construction industry or address potential housing market challenges.
The unexpected decline in Canadian building permits for September 2023 highlights the dynamic nature of the construction and housing markets. While the residential sector shows promise, the non-residential sector's decline raises questions about the broader economic impact. Investors, homeowners, and policymakers will be closely watching these trends, as they can have lasting implications for the housing market and the Canadian economy as a whole.
Your market
Curious where our market falls on this split and what it means for you?
Get in touch, and we'll tell you everything you need to know.
Let's Go