Breaking Ground: Unveiling Canada's August 2023 Housing Starts Insights
In the ever-dynamic world of real estate, keeping a finger on the pulse of housing starts and permits is essential for understanding the economic landscape. Housing starts are an economic indicator that reflects the number of residential housing projects that have been initiated over a specific period. These data are divided into three types: single-family houses, townhouses or small condos, and apartment buildings with five or more units. In this article, we delve into the housing starts and permits data for August 2023, offering insights and trends that shed light on the current state of Canada's real estate market.
August Monthly Housing Starts Key Highlights
The trend in housing starts for August 2023 remained relatively stable at 244,507 units. This figure represented a modest 0.8% increase from July's 242,552 units. It's worth noting that the trend measure is calculated as a 6-month moving average of the monthly seasonally adjusted annual rate (SAAR) of total housing starts for all areas in Canada.
Regional Disparities
One striking aspect of the August housing starts data is the regional disparities. In Toronto, new home construction surged by an impressive 28% compared to the previous year. Meanwhile, in Vancouver, it saw an even more remarkable increase of 47%. These statistics indicate that, so far, only Ontario and British Columbia have witnessed substantial growth in new home construction across Canada in 2023.
August Standalone SAAR
The standalone monthly SAAR of total housing starts for all areas in Canada in August was 252,787 units, reflecting a slight decrease of 1% from July. When we break this down further, we see that the SAAR of total urban starts also decreased by 1% in August, totaling 233,075 units. Multi-unit urban starts, which include apartments and condos, decreased by 1% to 191,250 units in August. In contrast, single-detached urban starts showed a 2% increase, reaching 41,825 units. Rural starts were estimated at a seasonally adjusted annual rate of 19,712 units.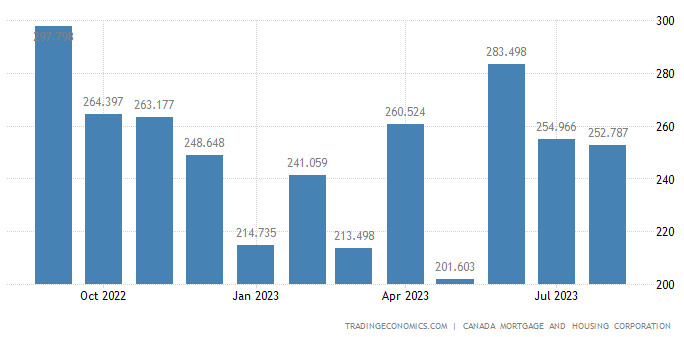 Absorption Rate in Metropolitan Areas
Understanding the absorption rate is crucial for gauging the demand for housing. In metropolitan areas, single-detached dwellings have encountered some challenges in maintaining a high absorption rate. Throughout this year, they have struggled to surpass the 80% mark, whereas most of 2022 witnessed a rate consistently over 80%. This shift in absorption rates may indicate changing preferences or economic factors at play.
The August 2023 data on housing starts and permits provide a snapshot of Canada's real estate landscape. While the overall trend in housing starts remained relatively steady, regional variations in construction activity highlight the diverging fortunes of different provinces. Toronto and Vancouver, in particular, have emerged as the hotspots for new home construction this year. Additionally, the absorption rate for single-detached dwellings in metropolitan areas signals evolving dynamics in the housing market.
As with any economic indicator, it's essential to consider the broader context when interpreting these figures. Economic factors, policy changes, and market sentiment can all influence the real estate landscape. Keeping a close eye on housing starts and permits data is a valuable tool for investors, policymakers, and anyone interested in understanding the ever-evolving world of Canadian real estate.
Not sure if you should sell?
We get it. The market is weird. If you're not sure if selling your home is the right move for you right now, get in touch. We'll go over the details of your specific situation and help you make the right decision.
Let's Go