10-Year Low in Canadian Real Estate Activity
In October 2023, the Canadian housing market witnessed a notable downturn, reflecting a decline in home sales and a consecutive two-month slide in prices. This shift in the market is a result of various influencing factors, including affordability challenges and high interest rates, which have led to a decrease in new listings and a sales-to-new-listings ratio hitting a 10-year low. Despite these overall declines, certain cities, including Calgary and Quebec City, experienced unexpected price growth.
The decline in home sales, a key indicator of market activity, was evident with a 5.6% drop in October compared to the previous month. This decrease was complemented by a second consecutive monthly decline in prices, as indicated by the 0.8% drop in the Aggregate Composite MLS Home Price Index. However, it's essential to note that on an annual scale, prices still exhibited resilience, showing a 1.1% increase from the same time the previous year.
Regional variations played a significant role in shaping the market landscape. Ontario experienced notable price declines, with some softening observed in British Columbia, particularly in areas like the Lower Mainland, Greater Vancouver, Fraser Valley, and Chilliwack. In contrast, certain cities defied the downward trend. Calgary, Edmonton, Quebec City, and Bancroft, Ontario, saw price growth, while Atlantic Canada generally witnessed increases, except for a slight decline in St. John's.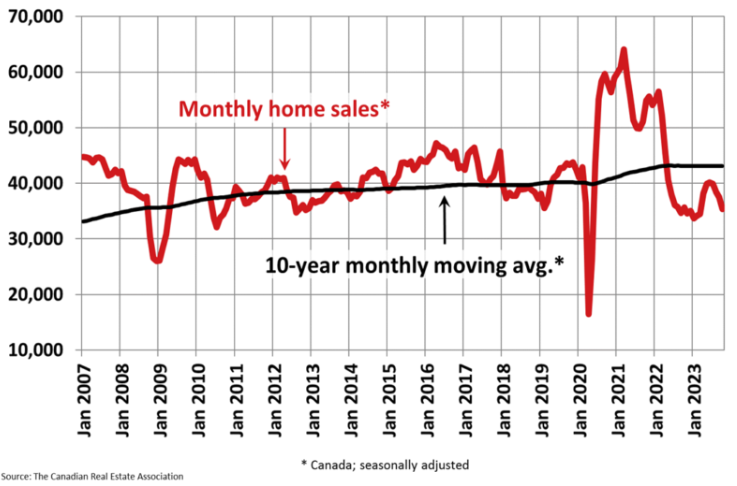 The dynamics of new listings and inventory further contributed to the market's overall narrative. October marked the first drop in new listings since March, with a 2.3% decrease. The sales-to-new-listings ratio reached a 10-year low of 49.5%, signaling a shift towards a buyer's market. Although inventory at the end of October stood at 4.1 months – a month higher than in May – it remains below the long-term average of nearly five months.
Despite the downturn, the market outlook maintains a degree of optimism. While housing demand remains high, the data from October suggests that its manifestation may not occur until spring 2024. Various factors, including potential changes in the Bank of Canada's interest rates, will play a crucial role in shaping future trends.
City-specific growth patterns provide a nuanced perspective. Calgary saw a 1.1% increase, Edmonton experienced a 0.3% rise, Quebec City witnessed a 1.7% growth, and Bancroft, Ontario, had the most significant increase at 7.2%. These diverse trends highlight the complexity of the Canadian housing market, with regional variations influencing both sales and prices.
The national trends, despite regional variations, underscore the challenges facing the overall Canadian housing market. Affordability issues, coupled with high interest rates, have created a complex landscape that impacts both buyers and sellers. The October data, with its decline in sales and prices, suggests a need for strategic decision-making in navigating the current economic climate.
As we contrast the current state of the market with its peak in February 2022, it becomes evident that the Canadian housing market has undergone significant shifts. The 5.6% decline in home sales and the consecutive two-month slide in prices reflect the evolving dynamics influenced by economic factors and regional variations.
Looking ahead, market participants are cautious, anticipating a delay in the manifestation of housing demand in the existing home market. The rebound in housing activity observed in the past spring could potentially serve as a pattern for the coming year. However, this projection hinges on factors such as the Bank of Canada's interest rate decisions, which will undoubtedly shape the trajectory of the Canadian housing market in the months to come.
The Canadian housing market statistics present a nuanced picture of a market in flux for the month of October. Regional variations, city-specific growth patterns, and overarching economic factors contribute to the complexity of the landscape. As stakeholders navigate these challenges, the data serves as a valuable tool for informed decision-making in the dynamic and ever-evolving Canadian real estate market.
Your market
Curious where our market falls on this split and what it means for you?
Get in touch, and we'll tell you everything you need to know.
Let's Go